The following is a list of games that have made references to the Pushmo series.
Ninendo Badge ArcadeEdit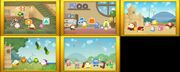 Several badges are based on Pushmo characters such as Mallo, Corin, Poppy, and Papa Blox. Some of these badges also feature icons alongside the characters and can be used to launch other 3DS applications.
Super Mario MakerEdit

An unlockable Mystery Mushroom costume is based on Mallo. The sound that plays when jumping while wearing the costume is a slight variation of the jump sound in the Pushmo series, and the level clear music is the same as that of Pushmo.
Super Smash Bros. for Nintendo 3DSEdit

One of the collectable trophies depicts Mallo, complete with a paragraph briefly describing Mallo and the Pushmo series. In the NSTC version of the game, its description reads:
Build yourself a path to the goal by pushing and pulling the blocks of the Pushmo in the playground. This sounds like a perfect job for a little sumo wrestler! Mallo pushes and pulls all day anyway, so he should be great at this! Help him learn some new skills on his way to the goal.